Video Message & Dance Performance
On May 5, the Maruki Gallery celebrated its 56th anniversary. We held an anniversary event for the first time in three years since the pandemic began. Many people gathered at the gallery and enjoyed spending time together. We were so happy to see everyone again.
We are able to continue our activities at the gallery because of our supporters. We are truly grateful for your support.
On this special occasion, we are pleased to share with you a video message from the curator, Mr. Okamura.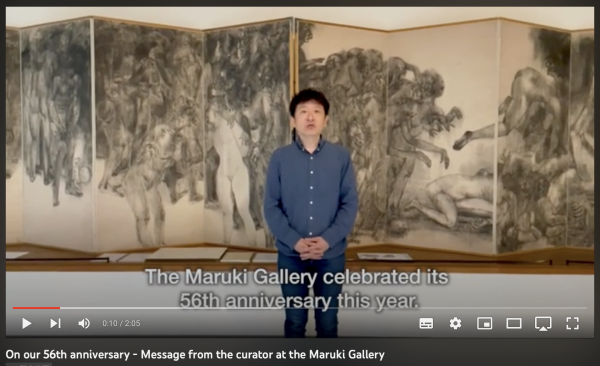 Please click here to watch the video.
As you may know, the G7 summit was held in Hiroshima in May. During the summit, civil society groups held a series of online events. At the closing of the program, third-generation A-bomb survivor and dancer Tominaga Yuki gave a dance performance in front of the Hiroshima Panels Part VIII Relief.
She wanted to pass on the thoughts of her grandmother, who had testified about the atomic bombing. After struggling with whether she was qualified to tell her grandmother's story, as Yuki herself had not experienced the atomic bombing, she decided to use her passion, dance, to tell her grandma's story.
This short video (5:50) is in Japanese, but the performance begins around 3:10.
Please click here to watch the performance.
This year, we will move forward with concrete plans for the renovation of the gallery building. We will aim for a building that will enable us to preserve and pass on the Hiroshima Panels to future generations.
Recently, we have received more visitors from various countries and have had an increasing number of inquiries from overseas researchers. If you could continue to tell your friends and family about the Hiroshima Panels and the Maruki Gallery, we would be so grateful.
Thank you again for your continued support.
Maruki Gallery for the Hiroshima Panels