ExhibitionFinished
Date : Sep. 7 - Nov. 17, 2019
Kosai Hori + Erize Hori: To Remember – Who am I?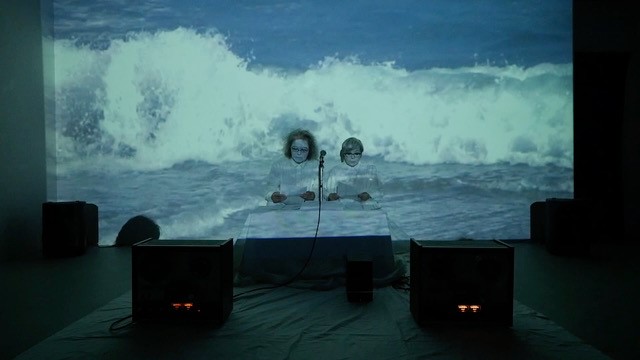 In 2019, Japan names the new Imperial era, "Reiwa". This exhibition by contemporary art duo Kosai Hori + Erize Hori criticizes what this country hides behind the festival mood, looking ahead to Tokyo Olympics in 2020 and Osaka, Kansai Japan EXPO in 2025, as they would also show a vision to open a new era.
Although Kosai Hori + Erize Hori has been an art duo since 2011, they have actually collaborated from the middle of 1970s. Kosai Hori started his artist career around late 1960s for over a half a century and mainly his performances in the late 70s, were collaboration with Erize Hori. After the collaboration, he had focused on painting for about 20 years. He restarted his performance and installation work in the late 1990s as an art unit "Unit 00 (Kosai Hori, Erize Hori and Minoru Hatanaka)", including Minoru Hatanaka (Chief Curator of NTT Inter Communication Center〔ICC〕). Furthermore, they reformed the unit as "Kosai Hori + Erize Hori" and the unit have expanded their energetic expression since the Great East Japan Earthquake and the Fukushima Daiichi Nuclear Disaster in 2011.
Also, Erize Hori has supported in the form of reading for the painting series of Kosai Hori The Garden of the Fall and Rebirth from 2015. This exhibition is a compilation of Kosai Hori + Erize Hori's activity since 2011 so far.
Supported by 3331 Arts Chiyoda, Japan Art Sound Archive and Mizuma Art Gallery
Kosai Hori
Born in 1947 in Takaoka, Toyama Prefecture, Japan. Kosai Hori enrolled Tama Art University in 1967. He founded "Bikyoto (Artists Joint-Struggle Council)" as a member and became a Chairman later. Kosai Hori dropped out of the university in 1970. Kosai Hori was a Professor at Tama Art University from 2002 to 2015. In 2010, Tama Art University established an alternative space "akibatamabi21" and he was appointed the first producer. Kosai Hori is currently an Emeritus Professor of Tama Art University.

Erize Hori
Born in 1948 in Shibukawa, Gunma Prefecture, Japan. Erize Hori enrolled Tama Art University in 1967 and dropped out of the university in 1970. In the same year, she studied at B-semi Learning System of Contemporary Art. Erize Hori also studied at "Juku", which is a private academy by Jiro Takamatsu. She had a solo show at Nirenoki Gallery and participated in Kyoto Independent Exhibition in 1973. From 1973 to 1974, Erize Hori held eight "Tautology" exhibitions, which consisted of performances and installations in an art unit with Kayoko Ueda. Until 1974, she used the name of Erize Watanabe. Erize had been active as a  collaborator and performer with Kosai Hori, including at the Paris Biennale in 1977.

Kosai Hori + Erize Hori
Since 1998, Kosai Hori and Erize Hori have released their performances, videos and site-specific works with Minoru Hatanaka as an art unit "Unit 00", including ATTITUDE 2002 at the Contemporary Art Museum Kumamoto in 2002, Echigo-Tsumari Art Triennale in 2003 and 2006, Utsunomiya Museum of Art, Hiroshima City Museum of Contemporary Art, Tama Art University Museum and others. Kosai Hori + Erize Hori started their activities publicly just after the Great East Japan Earthquake in 2011. They have mainly released installation works and performances, including Aizu Art Project in 2012, Busan Biennale in 2016.  Kosai Hori's late painting series, The Garden of the Fall and Rebirth, was composed by Erize Hori reading texts and Kosai Hori drew it by listening to her.
---
Exhibition-related events
Special talk
Date and Time: Saturday, September 7th, 14:00-
Speaker: Norio Akasaka (Folklorist)

Artist performance and talk
Date and Time: Saturday, September 15th, 14:00-
Speaker: Minoru Hatanaka (Chief Curator of NTT Inter Communication Center〔ICC〕) and Tomotaro Kaneko (Researcher in Aesthetics)

Special talk
Date and Time: Saturday, September 7th, 14:00-
Speaker: Noi Sawaragi (Art Critic)

Special talk
Date and Time: Saturday, Octber 5th, 14:00-
Speaker: Shigeo Chiba (Art Critic)

Special talk
Date and Time: Saturday, November 9th, 14:00-
Speaker: Mika Kuraya (Chief Curator of the Department of Fine Arts, The National Museum of Modern Art, Tokyo)

Admission: Free, no booking is required (With the exception of Museum's entry fees)