EventLiveFinished
Date : Nov. 16, 2019
Shuntaro Tanikawa & Kensaku Tanikawa: Heiwa to Senso (Peace and War)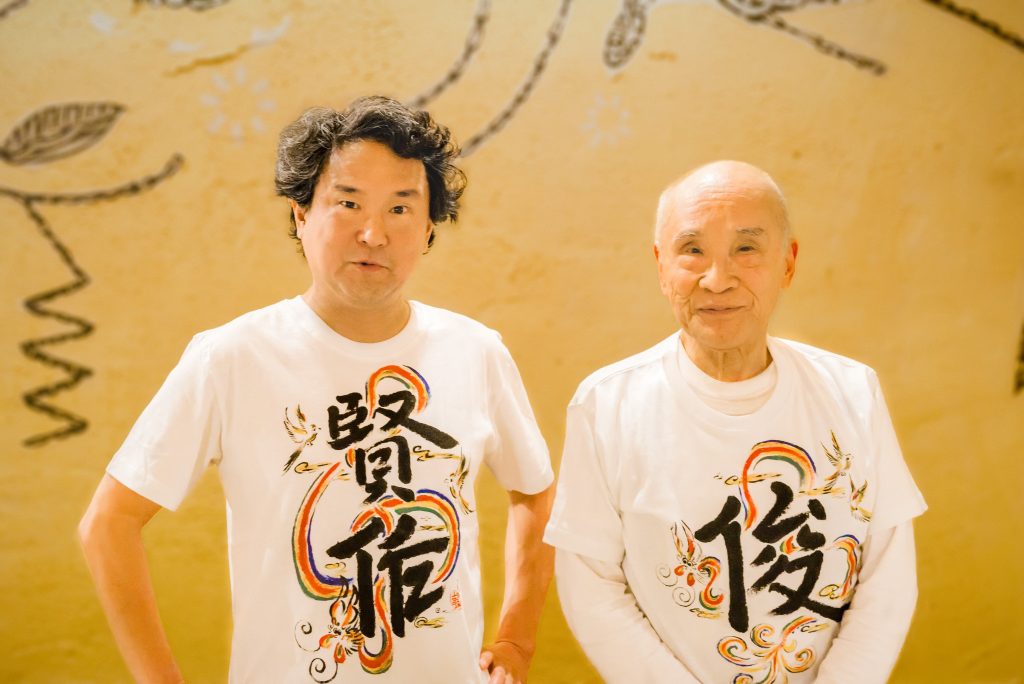 Start: 15:00 (Doors open from 14:30)
Venue: Maruki Gallery, New Wing
Adults ¥3,000 / Under 18 years old ¥2,000 (Inclusive of Museum's entry fees)
Advance tickets are available from August 1st (200 tickets are available for this event)

*This event is only available in Japanese
Since 1990s, father and son poet/musician duo has been holding their concerts all over Japan. They have performed at various venues, including concert halls, live space, temples, and museums. Though there is a repertoire to their performances, the duo often deviates from it into an open and natural conversation on stage. It is due to the father and son relationship that they are in sync with each other, each anticipating the reactions and intentions of the other. This creates an entirely unexpected performance that never bores the audiences. Please look forward to their exciting performance.
Shuntaro Tanikawa
Poet

Born in 1931 from Tokyo. Since the release of his first poetry collection, Nijuokukonen no Kodoku (Two Billion Light-Years of Solitude) published in 1952, he has published numerous works and won many prizes. This includes the 4th Lyrics Award for the Japan Record Award for Getsu Ka Sui Moku Kin Do Nichi no Uta (Songs for Monday, Tuesday, Wednesday, Thursday, Friday, Saturday, and Sunday) in 1962, the Japan Translation Cultural Award for Mother Goose no Uta (The Truth About Mother Goose) in 1975, the 34th Yomiuri Prize for Literature (Poetry and Haiku) for Hibi no Chizu (Map of the Days) in 1982, the 1st Sakutaro Hagiwara Prize for Seken shirazu (Ignorance of the World) in 1993 and the 1st Nobuo Ayukawa Award for Tromso Collage in 2010.

Besides poetry, Tanikawa has published other forms of writings including picture books, translations, scripts, and lyrics. Recently, he has challenged the possibility of poetry, expanding its reach to even an iPhone application software. He has produced Tanikawa, a fishing poem game application as well as Poe Mail where you could receive Tanikawa's poems via postal service. In 2019, he has also published a picture book titled Heiwa to Senso (Peace and War) (Bronze Publishing) which is a collaboration with illustrator Noritake.
Kensaku Tanikawa
Composer, Arranger, and Pianist

Born in 1960 from Tokyo. Tanikawa is an active member of a sung poetry band, DiVa and music duo, Palhaço with harmonica player, Chikara Tsuduki. He also often holds piano and poetry recitals with his father, Shuntaro Tanikawa. He has composed the main theme scores for various films and TV programs, including Shiju shichi nin no Shikaku (47 Ronin), Akai Tasuki: Tomioka Seishijo Monogatari (Red Sash: The Tomioka Silk Mill Story), and NHK's Sonotoki Rekishi ga ugoita (The Historic Moment). He is in-charge of the music for the film Gokutomo (Friends in Prison), which is currently screening in cinemas. A new CD of chorales titled Hito wa utau (Humans sing) (TRBR-0020) will be released on June 30th.

Kensaku Tanikawa's website