ExhibitionFinished
Date : Feb. 11 - Apr. 10, 2022
Special Exhibition – 110th Anniversary of Toshi Maruki's Birth: Depicting People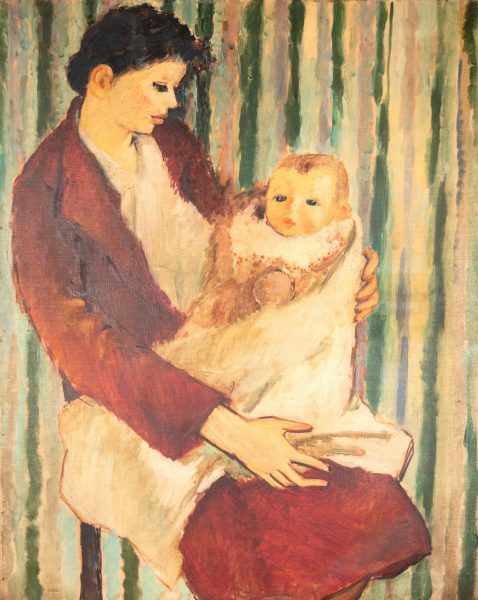 The year 2022 marks the 110th anniversary of the birth of Toshi Maruki (Toshiko Akamatsu), who was born on February 11, 1912 in Chippubetsu Village, Hokkaido (now Chippubetsu Town).
In December 2021, we received an oil painting donation from a woman living in Ichikawa City, Chiba Prefecture. The woman's mother-in-law was a teacher at Ichikawa Elementary School, and had been Toshi's colleague. Based on the date of birth of the baby depicted in the painting and records from past exhibitions, this oil painting titled "Mother and Child," is thought to have been exhibited at the 13th Hakujitsu Art Exhibition held in January 1936.
At that time, Toshi was struggling to balance her work as a teacher with her desire to become a painter. It is said that Toshi once asked Morikazu Kumagai if she had talent, to which Kumagai answered, "When you look at the buds of a tree in winter, do you know which ones will bloom into flowers?"
Eventually, Toshi resigned from her teaching position. She lived in Moscow twice and visited the South Seas Islands, developing her talent and leading the way to a new era as a "female painter."
This special exhibition will showcase 13 portraits from the 1930s 1940s. We hope you will enjoy the youthful expressions and candid depictions of people, signifying Toshi's growth as an artist in the era before she began to paint 'The Hiroshima Panels,' a joint work with her husband Iri Maruki.