EventAnniversaryFinished
Date : May 5, 2022
55th Anniversary of the Maruki Gallery – with Sakata Akira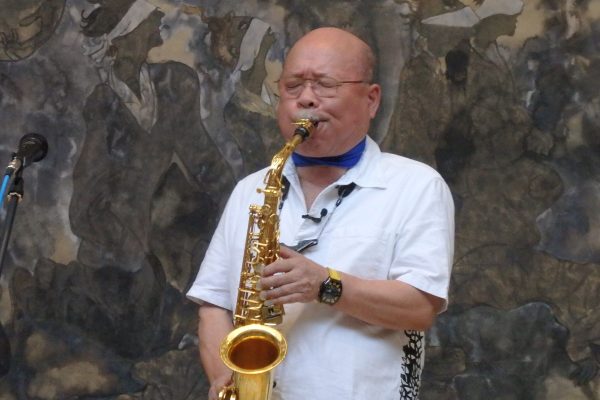 Thanks to a support from all of you, the Maruki Gallery will celebrate its 55th anniversary on May 5, 2022. This year, we will celebrate the anniversary with a performance and talk by saxophonist Sakata Akira. The program will be available online.
Sakata Akira was born in Kure City, Hiroshima Prefecture, in 1945, the year of the atomic bombing. While he actively performs both in Japan and abroad as a jazz saxophonist, he is also engaged in the Japan Chernobyl Foundation as well as performing in areas affected by the Great East Japan Earthquake.
After a friend took him to the Sakima Art Museum, where the Marukis' paintings The Battle of Okinawa, Mr. Sakata came to the Maruki Gallery to perform live on August 6, 2016, for Hiroshima Memorial Day event. The performance was breathtaking and spectacular.
At this year's event, Mr. Sakata will once again stand in front of the Hiroshima Panels and play the saxophone as he faces the Marukis' paintings. He will also share his thoughts on the current situation in Ukraine and the war.
This program is scheduled to begin streaming on May 5 at 2:00 pm (JST) and it is free of charge.
We invite you to join us on the Maruki Gallery's official YouTube channel. We hope you will take this opportunity to remember the Maruki Gallery.
---