ExhibitionFinished
Date : Oct. 22, 2022 - Jan. 22, 2023
Motai Toshiya: Soul-Body, and light 《ta・KK・ei》《TA・GEMBAKZU》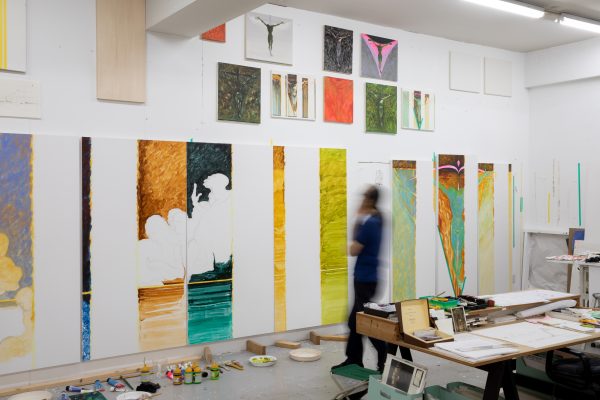 Motai Toshiya is an artist who theoretically explores the question "What is painting?" from the perspectives of the spirituality embedded in the image and the issue of format (aspect ratio).
Motai, who studied in Germany after graduating from Tokyo Zokei University, noted that paintings on sliding door panels and folding screens incorporated in Japanese architectural spaces are comprised of an even number of screens, whereas in Western altarpieces odd-numbered panels are joined and centered. In the process of studying and testing these forms in his own painting practice, he created ta・KK・ei (1998), using the Isenheim Altarpiece painted by Matthias Grünewald in the early 16th century as a reference. 
Over many years, Motai has developed his own theory of painting and developed his works through projects such as the horizontal TA series, comprised of even numbers of connected screens and which were inspired by Japanese paintings on sliding doors panels, as well as the Qf series, in which the spirituality of Western iconography and Buddhist art is composed into square screens. In recent years, Motai also developed a deep interest in the Hiroshima Panels through visits to the Maruki Gallery. How are the Hiroshima Panels positioned within Motai's theory of format?
In addition, as the world was engulfed by the Covid-19 pandemic, Motai focused on the spirituality imbued in Grünewald's Isenheim Altarpiece. The painting was originally displayed in a monastery that treated patients of epidemic diseases, and it took on the role of sublimating the suffering of the sick with the suffering of Christ. Reflecting upon the mission of art in the present day, Motai resumed his ta・KK・ei series, and he is currently working on a new piece, titled TA・GEMBAKZU, based on the third Hiroshima Panel, Water.
Motai also spoke about the positioning of the Maruki Gallery itself: "The Gallery, which is built on a riverbank overlooking the Toki River, belongs to a place just slightly above the earth, but still separate from the sacred place far above — it is, first and foremost, a magnetic field for the movement of the body and soul."
By centering works such as the ta・KK・ei series, which Motai began again in 2020, and TA・GEMBAKZU, as well as making space for plan drawings, Himmel Bild, and Jacob's Ladder and Frame Window in the exhibition space, this exhibition explores the connection between art and and ourselves, as we live in a world shaken by the Covid pandemic, the nuclear threat, and war. 
Supported by: The Pola Art Foundation, the Kao Foundation for Arts and Sciences, Toshiaki Ogasawara Memorial Foundation
In collaboration with: FOVEA Corporation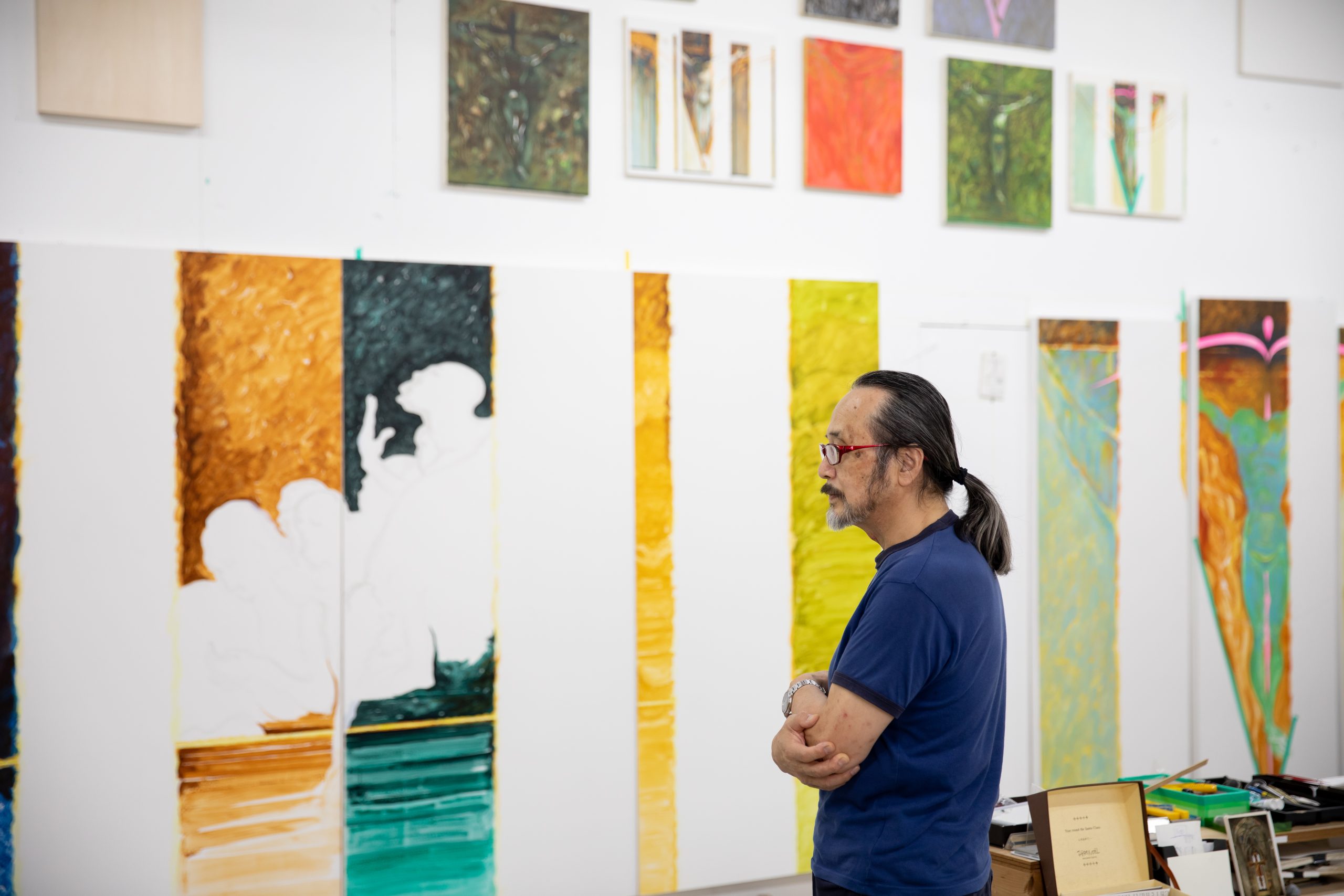 Motai Toshiya
Motai was born in Nagano Prefecture in 1954. He graduated from Tokyo Zokei University's Department of Fine Arts with a major in painting in 1978, and in 1983 studied under Professor Raimer Jochims at Städelschule in Frankfurt, Germany. In 1986, he was inspired by multi-panel painting styles, and in the following year he developed Mythical Grave B No. 2 (comprised of four panels) and returned to Japan. Since then, he has presented many works at both solo and group exhibitions. Exhibitions in recent years include "Motai Toshiya: Koiga 1993/2017 and 'Qf'" at the Nagi Museum of Contemporary Art in 2017, and "Motai Toshiya: Floating Image — Positionality of Painting" at the Tokyo Zokei University Art Museum in 2019. His major publications include "Kaiga no tame no miharashi koya Motai Toshiya sakuhin-shū vol. 1 (A cabin with a view for painting: Toshiya Motai's collected works, vol.1," which was published by BLUE ART in 2017, "Kaiga e bijutsu ronshū 1990 – 2018 (To paintings: Art essays, 1990-2018)," which was published by Ronsosha in 2019, and "Motai Toshiya ukabu zō ― kaiga no ichi 1987–2019 (Motai Toshiya: Floating Image — Positionality of Painting, 1978–2019)," which was published by Gendaikikakushitsu Publishers in 2020. Motai is currently a professor emeritus at Tokyo Zokei University.  
Motai Toshiya official website:  http://www.toshiya-motai.com/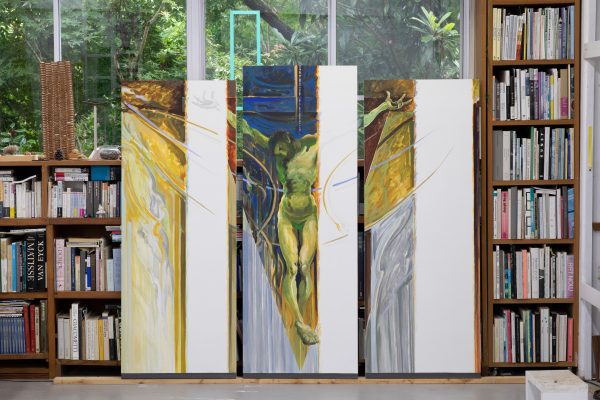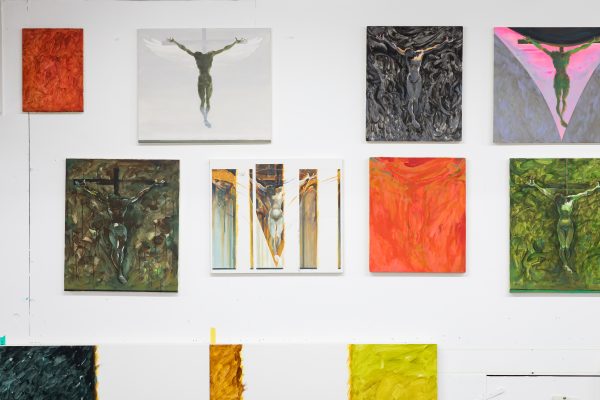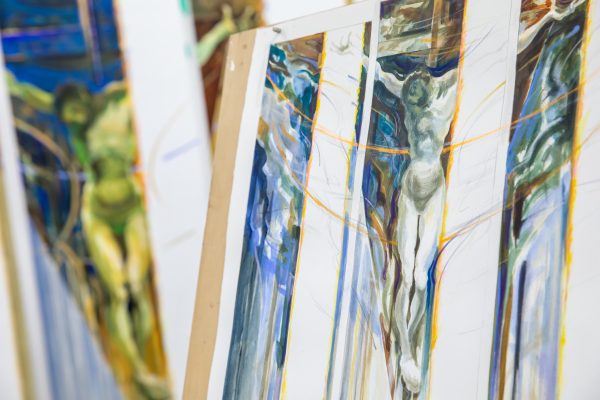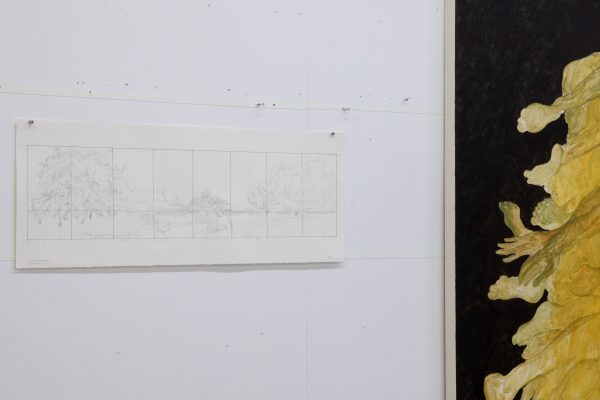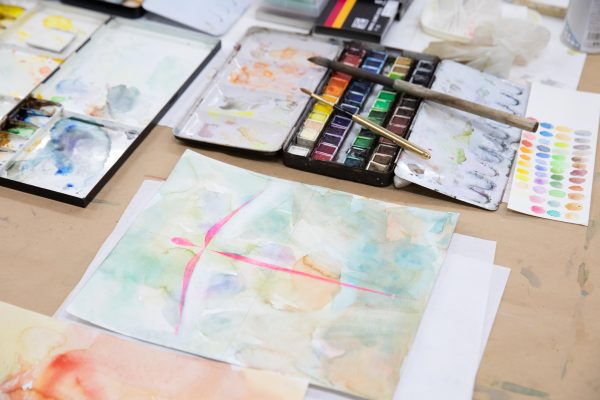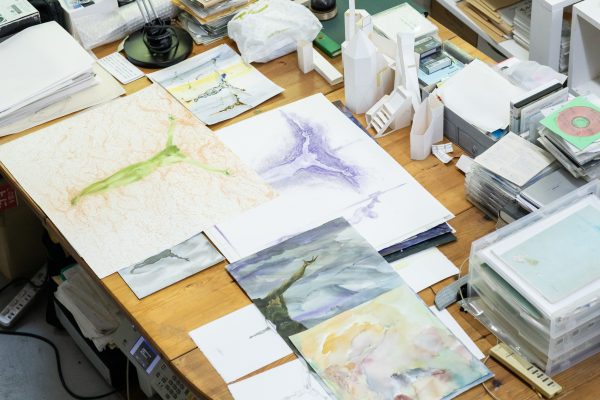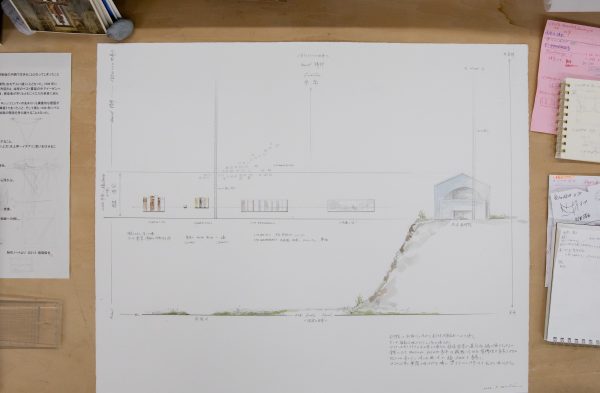 *All images were taken at the artist's studio (2022) Photos by Ali Uchida
---
In addition to this exhibition, Motai Toshiya will select and exhibit works by Iri Maruki and Toshi Maruki centering on the Hiroshima Panels in the art space on the second floor of the gallery.