ExhibitionFinished
Date : Feb. 4 - May 7, 2023
Cho Kunje Photography Exhibition: From Subterranean Darkness to the Light Above – Coal Mines, Koreans, and Leprosy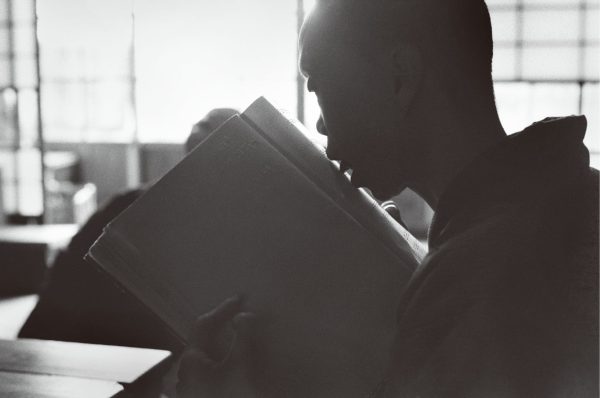 From the 1960s to the 1980s, photographer Cho Kunje (Japanese name: Murai Kaneichi; 1933-1997) visited leprosy (also known as Hansen's Disease) sanatoriums across Japan, producing works that depicted the patients forced to quarantine there, especially Zainichi Koreans (Korean permanent residents in Japan). His photographs from that period explore human existence enduring multiple discrimination based on both disease and ethnicity.
Born in the town of Obu (now Obu City) in Aichi Prefecture's Chita District, due to his family's circumstances Cho began working in a mine for lignite (also known as brown coal) when he was in his third year of junior high school. His days of working side-by-side with danger in the subterranean darkness made him yearn to escape to the light above ground. Eventually, Cho joined the lighting crew of a song and dance troupe of Korean residents in Japan and accompanied them for their performances throughout the country. During his travels, he visited National Sanatorium Kikuchi Keifuen in Kumamoto Prefecture, which sparked his interest in leprosy.
In the early summer of 1961, Cho visited National Sanatorium Tama Zenshōen in Tokyo, where he met Zainichi Korean patients. Over the ensuring 20 years, he took over 20,000 photographs as he visited various sanatoriums across Japan, from National Sanatorium Matsuoka Hoyoen in Aomori Prefecture in the north to National Sanitorium Hoshizuka Keiaien in Kagoshima Prefecture in the south. In an era of deep-rooted discrimination against people with leprosy, despite the disease's low rate of transmission, Cho's attitude of treating patients and convalescents without prejudice earned him their deep trust, and his photographs became an unprecedented record of their lives.
Ueno Eishin, a nonfiction writer who followed Cho's work, asked Cho to help edit a collection of photos of the Chikuho coalfield in Fukuoka Prefecture. The collection "Record of Myriad Photos: Chikuho," which was published in 10 volumes from 1984 to 1986, listed both Ueno and Cho as supervising editors.
Cho must have tried to understand the fundamental meaning of human existence, including his own, by documenting moments in the lives of people who continued to live in the face of discrimination. With the cooperation of the National Hansen's Disease Museum, this exhibition of approximately 180 photographs showcases the diverse works left behind by Cho Kunje, some of which have never been exhibited before.
With support from: Zenzeikyobunkazaidan (National Tax Accountant Mutual Prosperity Society and Cultural Foundation)
In cooperation with: National Hansen's Disease Museum