ExhibitionFinished
Date : Jun. 1 - Jul. 15, 2019
Mika Kan: The Ghost in the Doll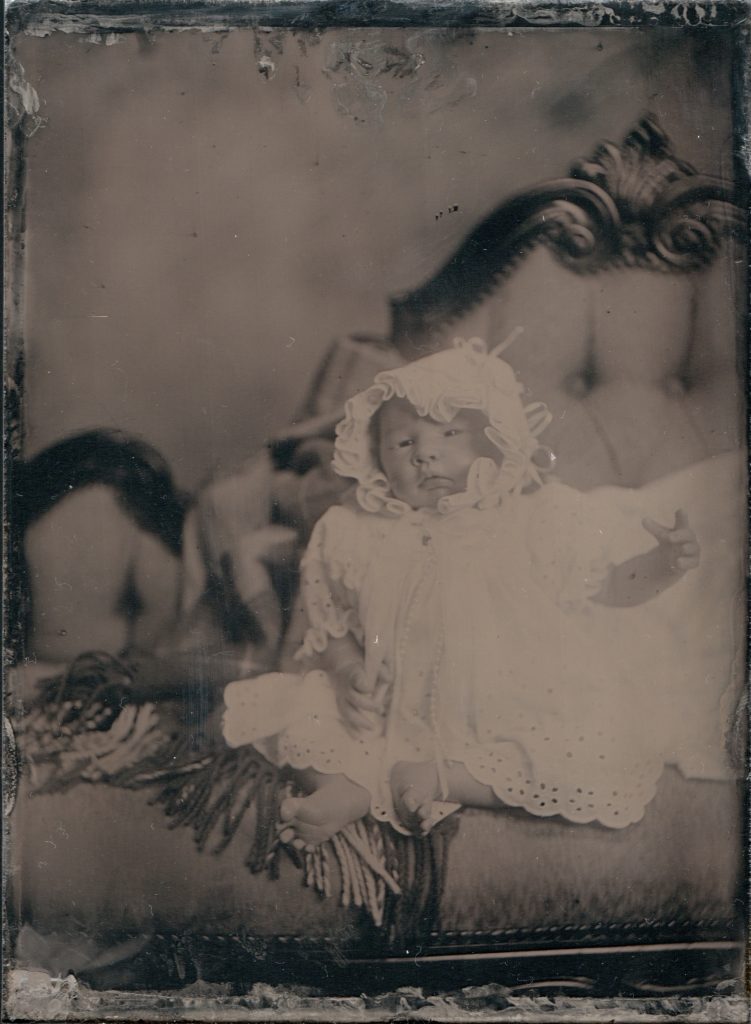 Mika Kan is an artist who became prominent for her series, Do Lovedolls Dream of Babies?, in which she photographed life-size pregnant love dolls. The focus on this exhibition is her new series, Pre-alive Photography, where she photographed life-size elaborate baby dolls known as "reborn doll" in ambrotype. Ambrotype, as a photographic technique, was once used in "Post-mortem Photography", which is a memorial portrait of the deceased, popular in Europe in the 19th century.

In the dawn of photography in Japan, some people believed that photography extracts the subject's soul. Whereas in Europe, they staged the deceased as if they were still alive and took commemorative photographs. This was especially the case where there were many photographs of infants with high mortality rates being taken. On the other hand, "reborn doll" has been a phenomenon in recent years. The doll is bought by mothers who lost their children and females who are struggling with infertility treatment. Pre-alive Photography is an attempt to find the lives in "reborn doll" which represents the feelings of these females from with backgrounds through using the classic technique of ambrotype, similarly used in "Post-mortem Photography".

Maruki Gallery for the Hiroshima Panels permanently exhibits the Hiroshima Panels, a collaborative work by Iri Maruki and Toshi Maruki. The Gallery is a space to ponder about life and death through the paintings which depicts punctiliously figures of humans, facing extreme situations and tragedies. Over the past few years, the gallery holds exhibitions of emerging artists as an honour to Iri Maruki and Toshi Maruki's intent to promote the next generation of artists and an attempt to create a new meaning.

Based on the intention, this exhibition, which is the first solo museum exhibition of Kan, would be a continuation to the genealogy of the representation of life and death in art today. Death always comes equally to all individuals. It is a privilege to be in the position to ponder about the narrative of death as one's accumulation of deaths, which is tend to be told in the grand context of wars and the other devastating events.
The exhibition dedicated website
Exhibition-related events
Artist's Talk
Date and Time: Saturday, June 15th, 2019, 2:00 p.m.
Speakers: Mika Kan (Artist) and Yukinori Okamura (Curator of Maruki Gallery for the Hiroshima Panels)
Admission: Free, no booking is required (with the exception of museum's entry fees)

In Conversation with Minato Chihiro × Mika Kan
Date and Time: Saturday, June 15th, 2019, 2:00 p.m.
Speakers: Chihiro Minato (Photographer, Author) and Mika Kan (Artist)
Admission: Free, no booking is required (with the exception of museum's entry fees)

Ambrotype workshop
Date: Saturday, June 29th, 2019, 2:00 p.m.
Admission: Booking is required until 17:00, June 25th
Instructor: Takahiro Wada (Photographer)

*These events are only available in Japanese