ExhibitionFinished
Date : Jul. 17 - Sept. 5, 2021
Yoshio Shirakawa: Is this Inferno or Paradise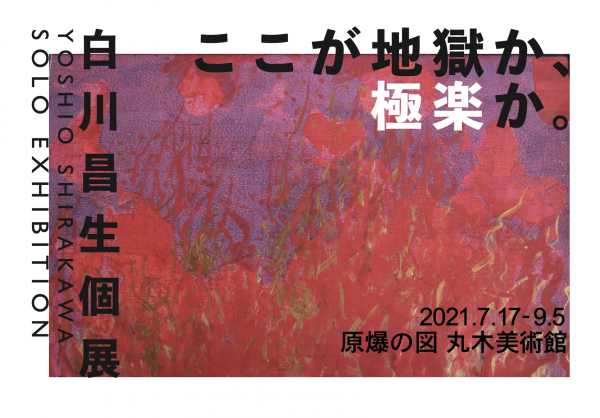 Around the 1990s, I was creating artworks regarding the Pacific War. The works were not presented in Tokyo and were not known to many people. I made similar works around 2000, which were also not widely known. Today, in 2021, I believe that the significance of making and presenting artworks regarding the Pacific War has become greater than before, as now is the time we must protect and build the post-war democracy
— Masao Shirakawa.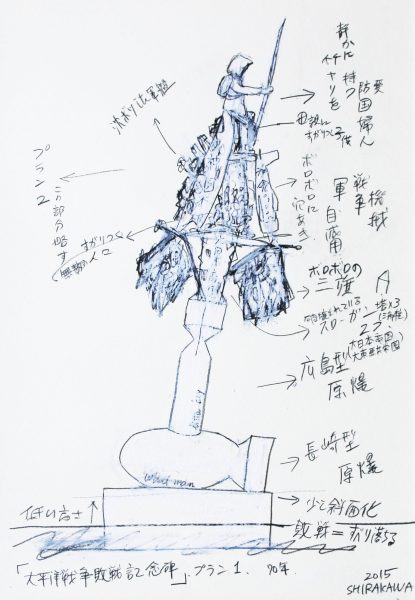 Shirakawa was born in Kitakyushu City, Japan, in 1948. He studied Art and Philosophy in Germany and France during the 1970s. Since returning to Japan, Shirakawa has been based in Gunma, central Japan, continuing his multifaceted artistic practices. Shirakawa's practice ranges from attempts to politically and socially criticise art history and artistic values created under modernisation and urbanisation to activities unravelling local culture and history. His activities are based on ideologies he was influenced by and his own experiences.
In this exhibition, artworks created with war as its central theme are presented, such as the《War Inferno》 (2003) that illustrates the Pacific War, series of drawings including《Pacific War Defeat Monument – Plan 1》(2015), and new artworks which were created specifically for this exhibition.
"This is complete shit". Shirakawa utters this phrase when he sees unreasonable events such as news regarding the relocation of the Henoko base in Okinawa or the despotic attitude by the government in the course of preparing for the Olympics. Most of Yoshio Shirakawa's works are sculptures that seem simple and structured at first glance, yet, at the roots of his diverse artistic practices — sculpture, paintings, activism, writings, and occasionally hosting festivals — there is a rebellious and unwavering spirit and attitude of criticism.
There are few works about inferno created by Iri and Toshi Maruki, who constantly drew the tragedy and misery caused by humans like wars. Unfortunately, I have not seen the series of works currently owned by a museum in Bulgaria. Yet, what we must inherit from Iri and Toshi Maruki as generations living after them is the act of confronting the "inferno" by taking over the memories of World War Two and the tragedies that have been continuing ever since.
The purpose of this exhibition is about gazing at the inferno of this "shitty" world that lies after the war, a theme that Yoshio Shirakawa faced throughout his life. — HARUKA IHARADA (Curator)
In collaboration with HARUKA IHARADA (Curator)
Yoshio Shirakawa
Born 1948 in Fukuoka, Japan. Shirakawa travelled to Europe in 1970 and studied philosophy at the Faculty of Literature, University of Strasbourg. He joined the Beaux-Arts de Paris in 1974 and graduated from Kunstakademie Düsseldorf in 1981. After returning to Japan, he has set base in Gunma and continues his artistic activities.