EventHiroshimaFinished
Date : Aug. 6, 2023
Hiroshima Memorial Event – 78th Anniversary
This year marks the 78th anniversary of the atomic bombing of Hiroshima. We will hold a special live concert (from 3pm, in-person only) and a memorial ceremony (from 5pm) at the gallery.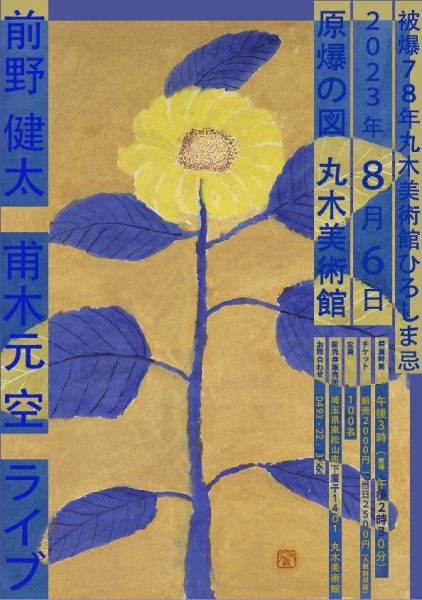 "If people do not drop the Bomb, it will not fall."
In parallel with his musical activities, Tokimoto Sora continues to interview victims of the bikini hydrogen bomb test in Kochi Prefecture.
With the latest album "Wai Chai", Maeno Kenta has been giving thought to countries around the world, and renewed his anti-war song with "Senso ga Natsu de Yokatta (I'm glad the war happened in the summer)", which was performed for the first time by the band at "FUJI ROCK FESTIVAL'21" in 2021.
"Why do we learn to walk? It's so we can see someone we love."
— From "Senso ga Natsu de Yokatta"
The two, who have been visiting the Maruki Gallery since childhood, will perform live at the Gallery in the summer of 2023.
The live concert will start from 3pm on August 6th.
Please read the event information page (Japanese) for more details.
The memorial ceremony will be held in front of the Hiroshima Panels (from 5pm).