ExhibitionCurrentFeatured
Date : Oct. 7 - Dec. 10, 2023
Pieces of Change and Beyond – Records of the research at the Maruki Gallery for the Hiroshima Panels / Renovation plan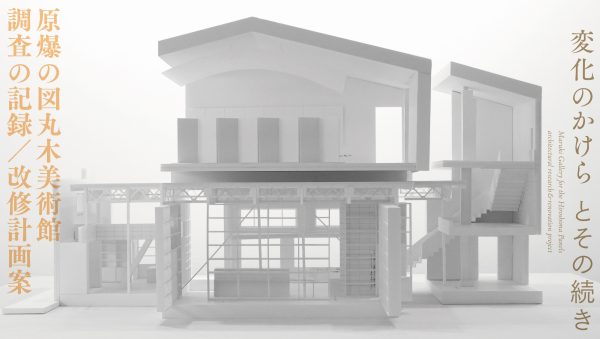 The Maruki Gallery for the Hiroshima Panels was built by Maruki Iri and Maruki Toshi (Akamatsu Toshiko) to house the Hiroshima Panels, and has been expanded and transformed through repeated extensions and renovations since their lifetime, making it a rare art museum.

We are currently carrying out research into the building, which was a site of painting and the artist's living space, to plan the renovation.

Surveying a building. It is an act of checking for damage and deterioration and finding areas in need of improvement, but we believe that it is also an act of touching, admiring and cherishing different parts of the building, including mysterious parts and fragile points (pieces of change) that have resulted since its construction, and finding traits of the building.
After getting the feel of the traits, the next step is to envision the future of the gallery, which has continued to evolve along with the artworks.

Our renovation plan aims to find and highlight the layers of time lost in the dust and grime, reconnecting to a time that may have once passed. We aspire to express how the gallery will live out the next 20 or 30 years.

 ――Saiga Eijiro / wyes architects
助成 

wyes architects
Architectural design office owned and operated by Saiga Eijiro and Yagi Kanami. In addition to architectural design, they also undertake research, planning and exhibition design. They design with an approach that emphasises a survey of the existing building.