ExhibitionFinished
Date : Apr. 17 - Jul. 11, 2021
Toshihiro Kanehara: The Voice of Ocean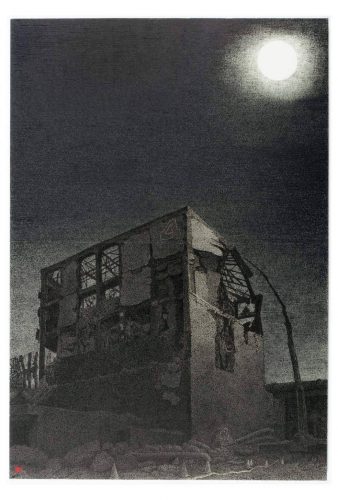 Ten years ago, on that very day, the heavens and the earth became upset.
Everything was broken, swallowed, swept up, and washed away. A nuclear plant, which previously boast of its safety, exploded. Nuclear materials were piled up, resulting in the worst case scenario for the nuclear plant. It has also continued to cause damage till today.
That day, people joined hands to get over the difficulties and helped each other as if they were the victims themselves. I hoped that it would be a good opportunity to change for the better. However, nothing has changed. Rather, it is getting worse now.
When Japan was defeated in World War II, no one, such as the Japanese military, government, and mass media, took responsibility and cosigned the matter to oblivion. This oblivion continued to flow deep like an undercurrent in Japan. Even now, after the nuclear accident, there has been extremely little support. The Japanese government and the electric power company have been desperate to make the damage itself look small and avoid responsibilities.
As a result, a sense of jealousy and unfairness has spread among the people. There was also a shift in consciousness between the supporters and the supported. This led to prejudice, division, and discrimination. The problem was not only the nuclear issue, but also in various aspects of the Japanese society. Our society has completely lost compassion and mutual helpfulness.
3.11 has truly let the sludge, which lay deep down of people's hearts, blew up. Therefore, we must take time to stop and think, anytime and anywhere.
Toshihiro Kanehara
Born in 1962 in Tokyo. Kanehara moved to Kiryu city in Gunma in 1995 and began a professional artist career. After the Great East Japan Earthquake in 2011, the artist made artworks revolving around the damage of tsunami and nuclear accidents, as well as the issue of the U.S. Military Base in Okinawa. Solo exhibitions include: Kuroku Nure! (Black Out!), Sorezore no Machi de (In their cities), Umi no Koe (The Voice of Ocean), and others. Group exhibitions include: Konnichi no Hankaku Hansen ten (Anti-War Anti-Nuclear Today, Maruki Gallery for the Hiroshima Panels, 2017), Moyai ten (Mooring, 21st Century Museum of Contemporary Art, Kanazawa, 2019), and Moyai ten 2021 Tokyo (Mooring 2021 Tokyo, 2021).