Finished
Date : Mar. 1 - Apr. 9, 2023
Special Exhibition of Ogata Jun's Works "Montage of Flame and Ash" — Preserving the Color of Memory and the Great Tokyo Air Raids
Preserving Color Samples of Air Raids and the Colors of Memories: Ogata Jun's Works and Productions
 It is almost 80 years since the end of World War II. Russia's war of aggression in Ukraine marked the beginning of an new, unsettling era, and this may also have been an opportunity for some families to discuss the past horrors of Japan's wartime tragedies.
Ogata Jun, a painter and painting restorer, began creating a wartime narrative through art based on the testimony and memories of his mother, who witnessed the burning, deep red sky of the Great Tokyo Air Raids during WWII from where she had been evacuated.
Ogata's work is an experimental expression of the fire bombing's burning red sky and the burnt-out landscape of Tokyo thereafter, using his mother's memories. This is not a "landscape painting" that depicts a scene from his mother's memory, but rather a work whose axis is a record of the color in his mother's memory and which was produced after carefully listening to her recollection of the color.
The artist said, "It wasn't easy to create a flaming sky based on the memory of someone who had actually seen it, and I began with a trial-and-error process of how to reproduce realistic colors that were different from mere creative expressions or propaganda-like war paintings." Through interviews with his mother and repeated drafts at his desk, Ogata focused on specific colors in a process similar to creating a montage of photographs.
This led to his expression of two prospects: one based on his mother's memory of the flaming sky during the Tokyo firebombing as seen from Hanno City, where she had evacuated, and the other based on her return home, when she encountered the burned-out gray of what remained of Daitabashi, the Tokyo neighborhood where she lived.
This is an exhibition of the paintings that express his mother's memory of the firebombing as an axis in time and records the damage of war as colors: a memory — not an explanation — of the colors of flames and ash. The exhibition also displays wartime photographs and a number of drafts Ogata created to explore the colors of memory, which were the artist's attempt to create a visually persuasive "montage effect" through the various works.
 Ogata also said he will consider the exhibition a success "if it becomes like an illustration that accompanies the story of my mother's experience during the war." He concluded, "I hope and pray that when the exhibition is over, the flames of war will be reflected in the hearts of those who viewed the works, and that the 'colors of memory' burned into the heart of one girl during the war will be shared in your hearts as well."
With cooperation from: The Center of the Tokyo Raids and War Damage, Tokyo Irei Kyokai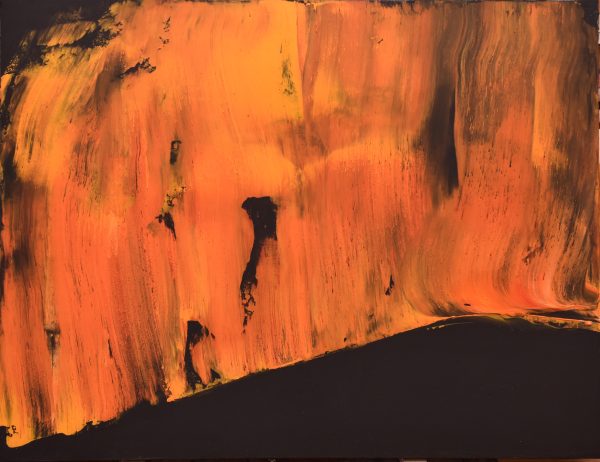 Ogata Jun, selected biography
1962 Born in Tokyo
1995. Completed graduate studies at Tokyo University of the Arts
1997-98 Studied in New York on the Agency for Cultural Affairs' overseas study program
Interned at RUSTIN LEVENSON ART CONSERVATION ASSOCIATES, LTD.

[Recent solo exhibitions]
2017 Art in Living – Ogata Jun Exhibition (ORIE Art Gallery, Tokyo)
2018 "IMAGE DE FLEUR Hana" Jun Ogata solo exhibition (Y2ARTS, Singapore)
"Flower Raft" Ogata Jun, exhibition of new works (Tobin Ohashi Gallery, Tokyo)
2019 Ogata Jun exhibition "Temporary Mountain – KAZAN" (Nagai Gallery, Tokyo)
2022年 "BLOOM IN GARDEN" – jun ogata solo exhibition − (WALLS TOKYO, Tokyo)

[Group exhibitions etc.]
2019 VOICES OF THE FUTURE (Y2Arts, Singapore)
"Black and White Exhibition" (Tobin Ohashi Gallery, Tokyo)
"The Exhibition of Finest Art Works From Representative Asian Artists" hosted by the Vietnamese government in Hanoi, Vietnam, 2019 (Vincom center for Contemporary Art, Vietnam) Award
1991 Musashino Art University, exhibit of outstanding graduation works, award of excellence
2004 Biennale KUMAMOTOⅡ, Kumamoto Mayor's award
2006 ARTEX New York 2006, Honorable mention
2015 "Griffin Gallery Open" Winsor & Newton, Painting prize finalist (Griffin Gallery, London)
In recent years, he has focused on creating art for public spaces such as hotels, residences, and restaurants.

[Commissioned work/ Public collection]
Ryukyu Hotel & Resort Meijo Beach, Richmond Hotel Himeji, Sotetsu Fresa Inn Tokyo Roppongi, Rikasai Ginza, Sheraton Miyako Hotel Tokyo, Grand Front Osaka Owner's Tower, Medical Foundation Tsutanokikai's Nansei Hospital, etc.