Gratitude Report 2022
As the year draws to a close, we would like to thank all of our supporters for your enthusiasm and generosity throughout the year. Your support has helped us keep our doors open this year, too, and we are truly grateful.
This year also saw various difficulties, both globally and in Japan. In spite of it all, many people continued to visit the Maruki Gallery. Also, there have been exhibits overseas that featured the works of the Marukis. We sincerely thank you for your support to make it possible, and for visiting us virtually by watching our online events and videos.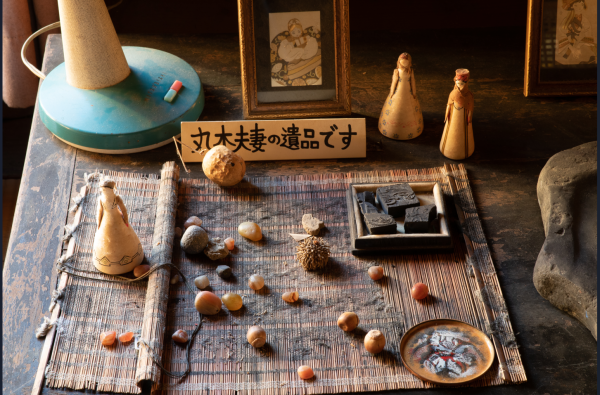 Today, we would like to take this opportunity to share with you the activities of the Maruki Gallery in 2022. Due to the pandemic, it still was difficult to hold public events this year. However, we continued to keep our doors open throughout the year again, and carried out the following special exhibitions.
Special Exhibitions in 2022
Special Exhibition – 110th Anniversary of Toshi Maruki's Birth: Depicting People
Ri Jong Ok: SIMULATED WINDOW
Is it possible to create Tohoku paintings? – Myriad Sceneries
Gaku Tsutaja: WARP DRIVE
Motai Toshiya: Soul-Body, and light taKKeiTAGEMBAKZU (Current exhibition)
Thanks to your contributions, we also created some videos (available on our YouTube channel) and held online events so that anyone can learn about the gallery, even from a distance.
Online Programs in 2022
(Some programs are available in English)
Special Exhibition Hikaru Fujii: Record of Bombing
Preserving Maruki Iri and Maruki Toshi 's Art for Future Generations
The Hiroshima Panels (I): Ghosts The Necessity of Restoration and What Lies Ahead
Ri Jong Ok: SIMULATED WINDOW (Introduction to the exhibition)
The Hiroshima Panels x Sakata Akira – Saxophone resonates with the memory of Hiroshima
Maruki Gallery Annual Report Session for FY2021
Gaku Tsutaja: Warp Drive Opening Talk
Gaku Tsutaja: Warp Drive (Introduction to the exhibition)
What Warps from Hawaii to Japan
Pieces of Changes – Findings from the survey of the current Maruki Gallery architecture
Motai Toshiya: Soul-Body, and light (Introduction to the exhibition)
While we are delighted to reach more people and to stay connected with our long-time supporters through the online programs, we look forward to the day when you can come to the gallery and stand in front of the Hiroshima Panels once again.
Fundraising Update
We have received generous contributions from so many people this year, too, bringing our total conservation fund to about 188 million yen (approx. 1.6 million USD) as of December 15, 2021. We still have much work to do to achieve our goal, but we are encouraged every day by all the messages we receive from our supporters. Thank you for the support you have given us.
We would be very grateful if you could continue to share Save the Hiroshima Panels – Preservation Fund with your friends and family.
Update on Restoration and Construction Plan
Last but not least, we would like to share an update on our restoration and construction plan.
Thanks to your support, The Hiroshima Panels (I): Ghosts is undergoing restoration work. The work is planned to be completed in March 2023. We are excited to have the original panel back in the gallery for display after a long restoration process.
As for the construction plan, we are currently reviewing our plans for constructing a new gallery building. Throughout this year, we have been conducting a thorough survey of the current gallery architecture.
This research has revealed that the Marukis valued the "renovation of the building without destroying it." There are many seemingly inexplicable structures and parts of the building that emerged from repeated renovations, which may be considered part of the history and value preserved by the Maruki Gallery.
By thinking of the building itself as another work of the Marukis, we have decided to modify our plans: We will renovate the building to create an appropriate environment for preserving the paintings while preserving as much of the building's history as possible. Therefore, the architectural plan, the architect, and the renovation schedule will be adjusted accordingly. We sincerely ask for your understanding.
We are in the process of developing a new plan along with the building survey. We hope to make concrete announcements on the new plan from the coming April onward.
Thank you for your support this year! We wish you a Happy New Year!
Maruki Gallery for the Hiroshima Panels